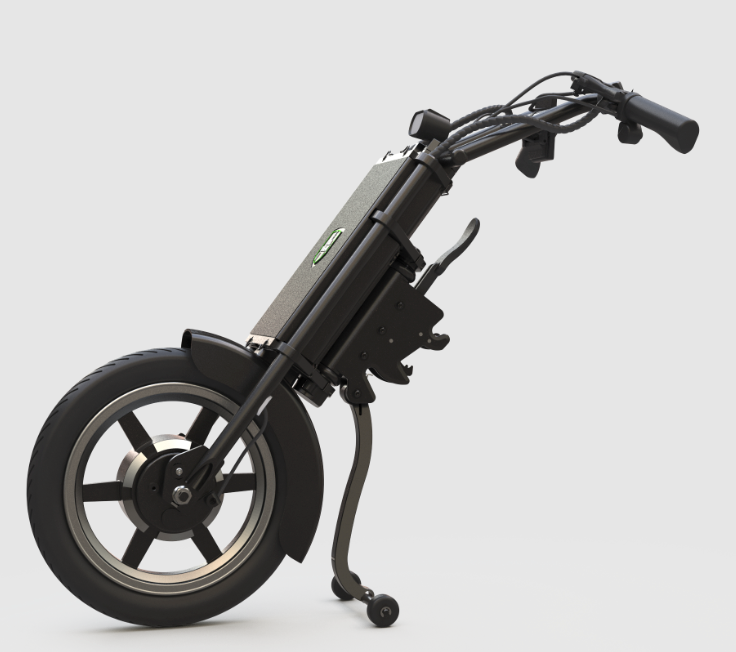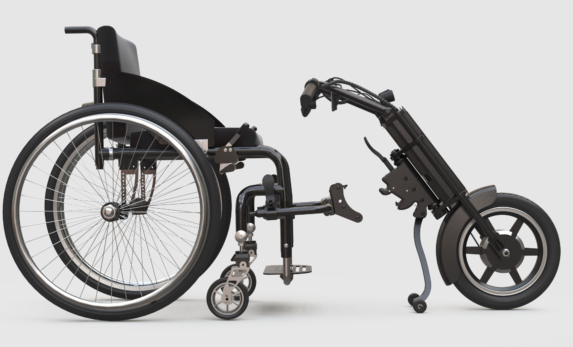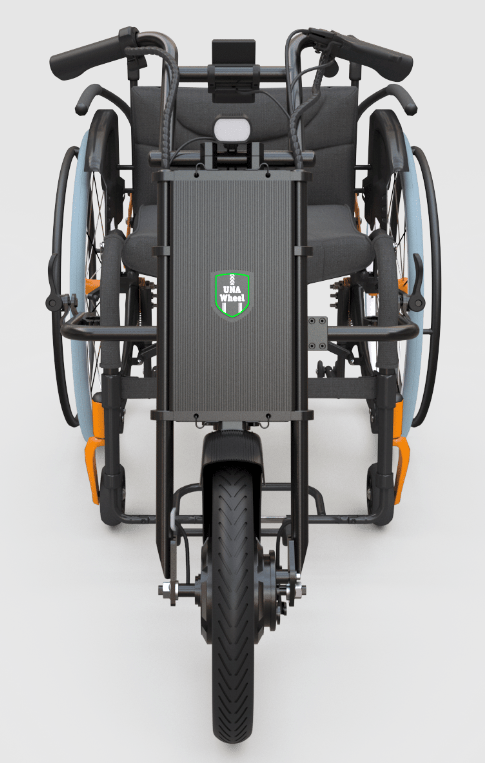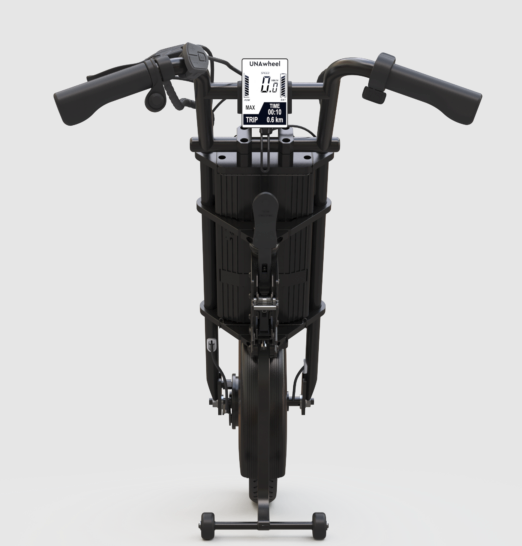 UNAwheel MAXI Wheelchair Power Add-On
The UNAwheel Maxi is a wheelchair power add-on that provides wheelchair users with a power boost. It is designed for people who are unable to walk but who are able to use a wheelchair independently. Thanks to its simple attachment mechanism, adjustment possibilities and modular design, the UNA Maxi can be used by wheelchair users with different types of mobility impairments.
ATTACH / DETACH IN 10 SECONDS
The UNA Maxi is powerful enough for both indoor and outdoor driving.
The UNA Maxi has an adapter, 2 types of tubes, 2 types of clamps and a range of spacers. It makes the UNAwheel Maxi compatible with a variety of wheelchairs: with swing-away leg supports, with folding or rigid frames.
Technical specifications
Total weight: 13 kg (28.6 lbs)
Motor: Electric, 450 W DC
Battery: Lithium Ion 36 V, 8 Ah, 288 Wh (allowed for air transportation)
Tire: 14×2.125, Pneumatic
Braking type: Mechanic
Public roads speed: Max. 6 km/h (3.7 mph)
Private territory speed(1): Max. 20 km/h (16 mph)
Speed modes: Max. 6 — 6km/h, max. 12 — 12 km/h, max. 18 — 18 km/h, max. — 20 km/h
Climbing capability: Max. incline of 14%
Range(2): Max. 25 km (15.5 miles)
Weight of the User: Max. 120 kg (264 lbs)
Operating voltage: Nominal 36 V, min 30 V, max 42 V
Max. current: 20 A
Maximum torque: 26.7 nm
Charging time: 5 hours
Charging temperature range: 10 °C (50°F) and 30°C (86°F)
Storage temperature range: 0°C (32°F ) and 25°C (77°F)
Weight of the battery pack: 2 kg
Battery charger: 100–240V AC, 2A
Protection Rating: IP54
Share
Recently Viewed Products
Exclusive built-in app section that stores the history of product views (incl. quick view)