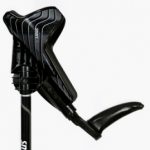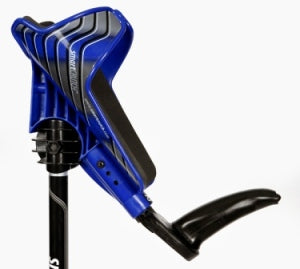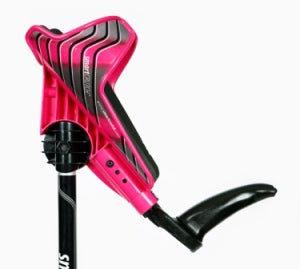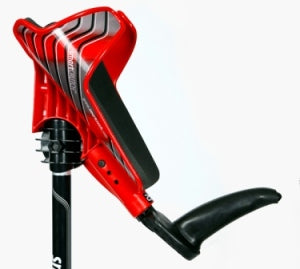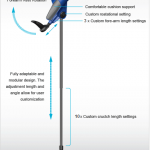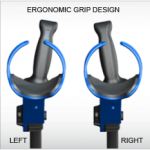 smartCRUTCH Small - Pair
smart crutches are really for you!
They are by far the most comfortable forearm crutches than anything out there; and are really cool crutches. smartCRUTCH's are available in a range of coloured crutches, graphic options and crutch accessories
The unique design of smartCRUTCH™ Spreads the entire load over your whole forearm which absolutely releases the pressure and pain from the hands and wrists.
The smartCRUTCH design utilises the benefits of the forearm crutch concept, while reducing or eradicating the direct forces on the hands and wrists. This is achieved by allowing the user to adjust the angle of the forearm platform, reducing or increasing the amount of weight load to the hands and wrists. Transferring the pressure to the forearm reduces or potentially eliminates injuries commonly found with the use of standard underarm or forearm crutches as stated to the left. smartCRUTCH also helps reduce fatigue, relieve stress and maintain a proper posture, paving the way for speedy and safe rehabilitation.
smartCRUTCH is engineered with Robust and durable materials, only weighing 990 grams per crutch. Ergonomically designed grips to suit the natural wrist and hand positions in a neutral state; Left and Right hand.Adjustable forearm brace, allows individual setting to suite ones own comfort requirements.
The forearm platform is supplied with a layer of Memory foam for maximum comfort. Adjustable leg length for your required height.
The  crutch ferrules are unique in design, allowing the rubber to angulate in all directions during weight transfer to the ground.The crutch ferrules ensures horizontal adherence of the non-skid flat tread to the ground at all times.
Forearm platform foam padding – Memory Foam for long lasting comfort.
Pressure reduced by up to six times per square centimeter (0.5kg/cm2).
Hourglass-shaped crutch ferrules design, maximizes surface contact.
Adjustment Range of the forearm: 270 mm to 300 mm.
Forearm length settings: 3 increments.
Forearm platform adjusted from 15° to a 90°.
Height adjustment: 10 positions.
Adult Size Range 1.524 meters – 1.920 meters (Adult Size Range 5' – 6'3").
Height Adjustment standard leg : Maximum : 1100mm
Height Adjustment standard leg : Minimum : 875 mm.
Weight Bearing Limitation – 120 Kg.
Crutch weight (single crutch) – 990 grams. (2.92 lb)
Share
Recently Viewed Products
Exclusive built-in app section that stores the history of product views (incl. quick view)