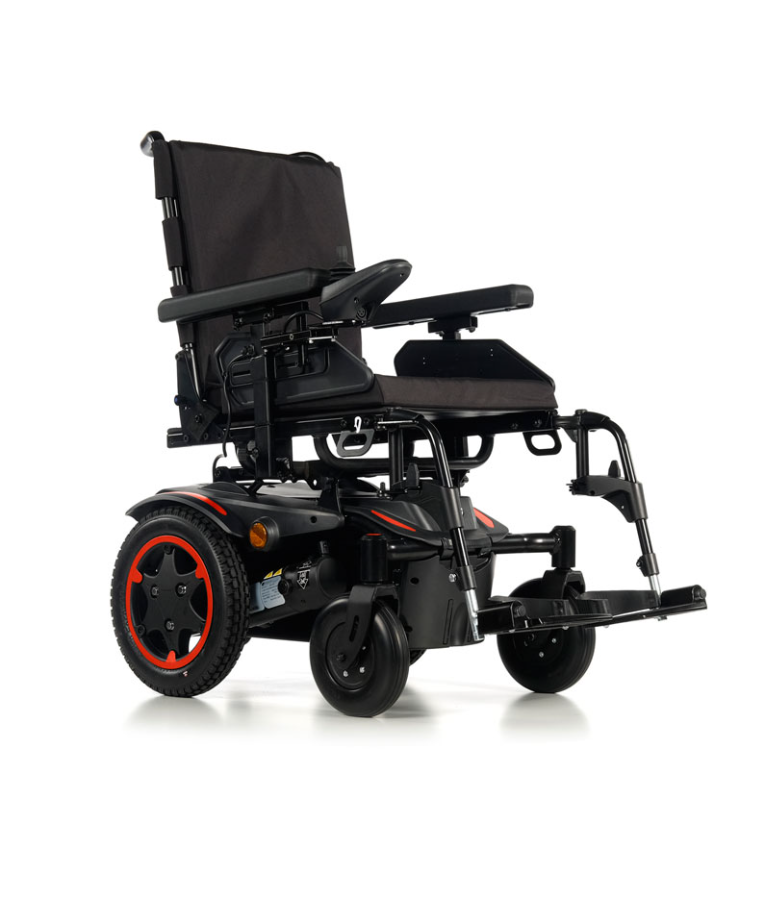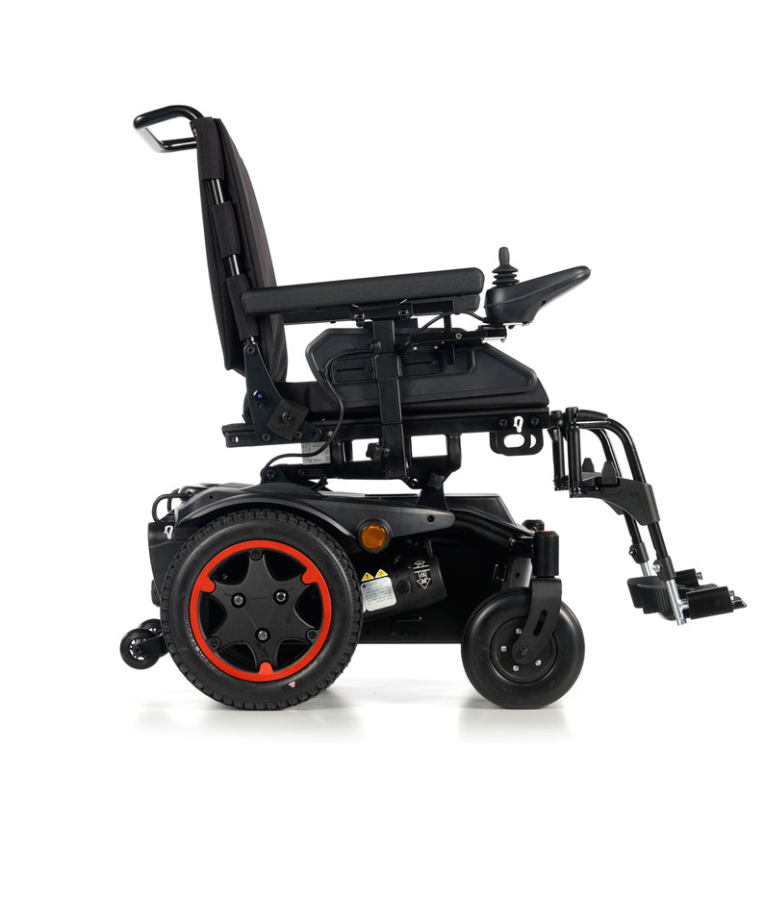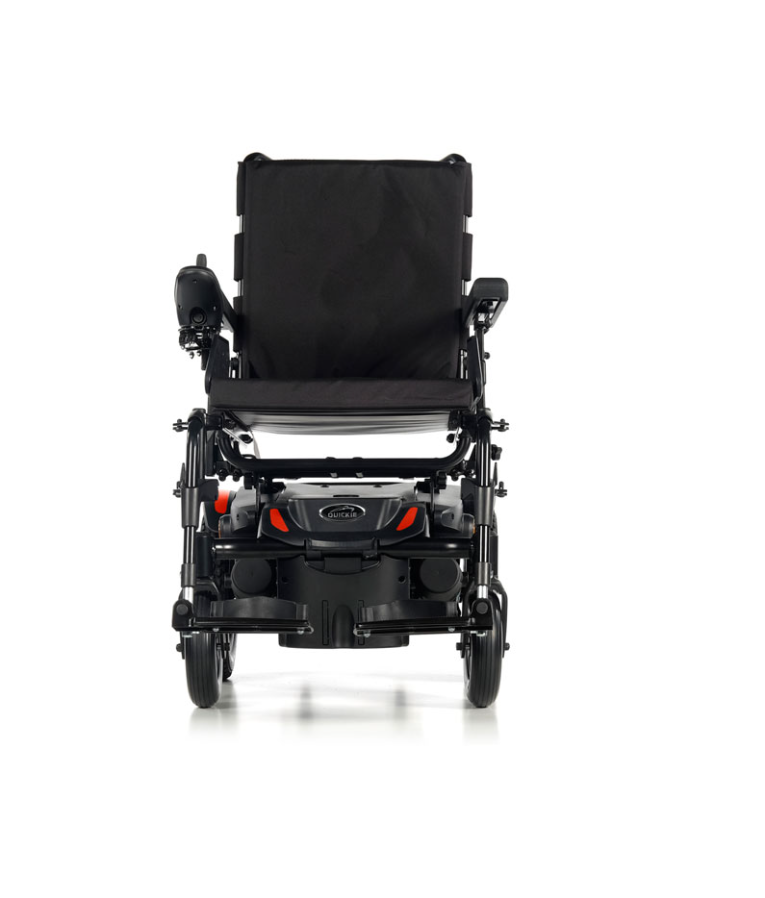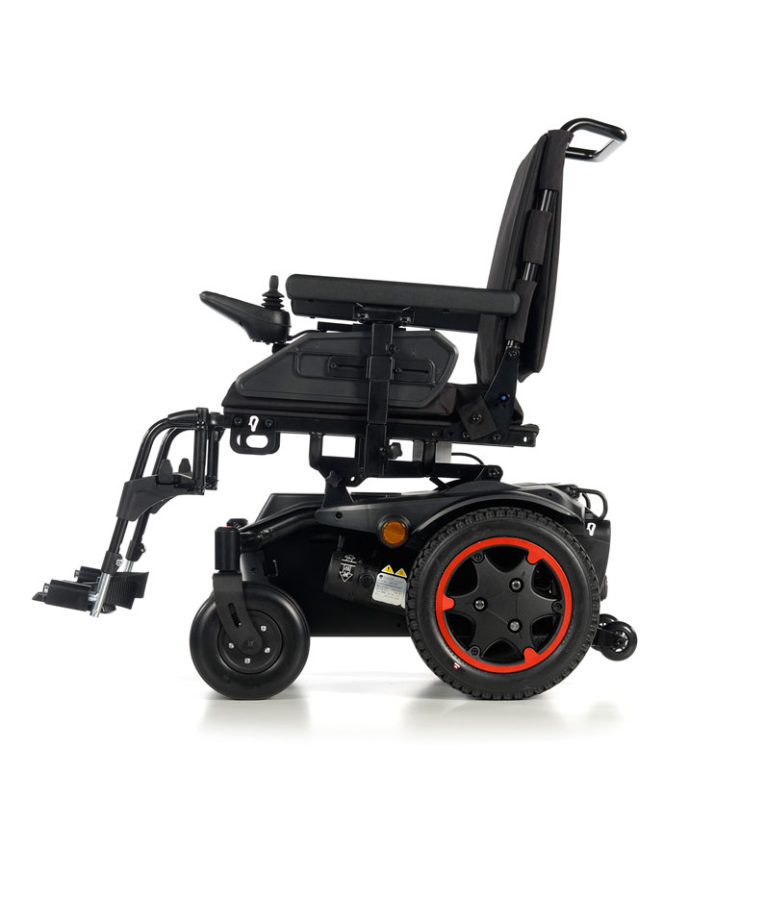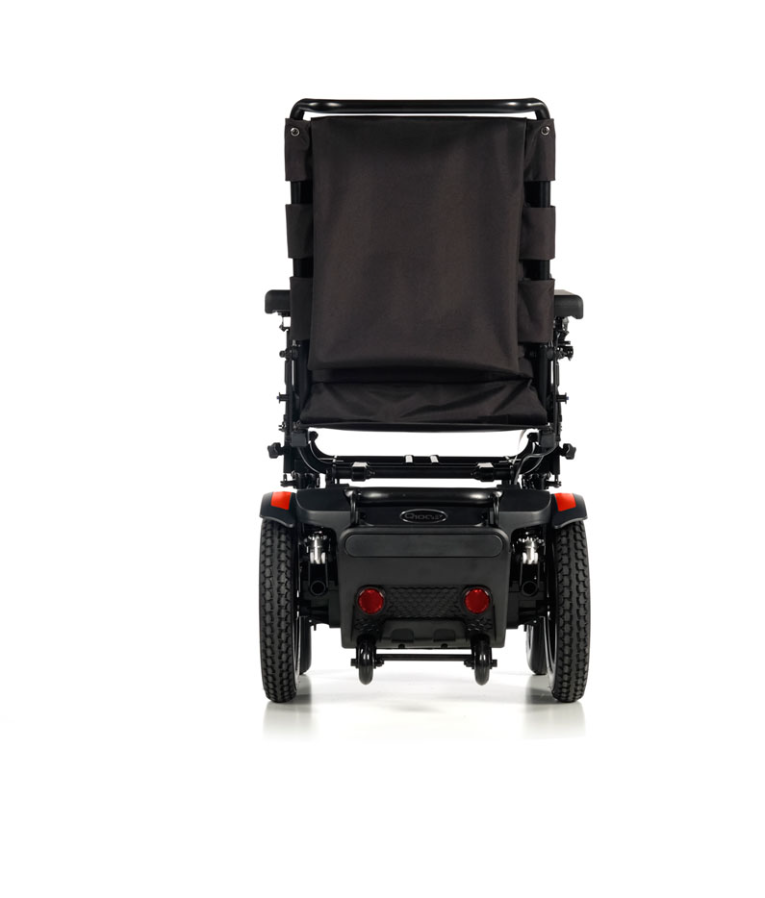 QUICKIE Q100 R Rear-Wheel Power Wheelchair
Designed to challenge indoor/outdoor powerchair standards, the Q100 R is ultra-compact for indoor agility, with stability and performance that's just as at home on the city streets. Smart design, smart looks - all at a smart price.
The ultra-compact indoor / outdoor entry level powerchair.
QUICKIE Q100 R uses an innovative testing method called SMART base technology. This helped us to understand how geometry changes to a drive base can affect performance, creating a precision-measured TRUE indoor/outdoor powerchair.
From SMART base development the Q100 R powerchair boasts an ultra-small footprint of 540 mm wide and 1010 mm long, with a tiny 1600 mm turning circle, so navigating even the tightest of spaces is a breeze.
Going out? The QUICKIE Q100 R provides a stable ride on urban roads and paths, ideal for those day trips out.
Unbelievably light at 95 kg, the Q100 R is also easy to hoist in and out of your car.
SMART Base Technology
All indoor/outdoor powered wheelchairs face the same problem... We solved it with SMART BASE Technology.
Our vision was to create a TRUE indoor/outdoor powerchair with super-tight indoor manoeuvrability and no compromises on outdoor stability and performance. But how do you design such a finely-balanced powerchair?
A large drive-base means difficulty when manoeuvring in tight environments. Too small and it becomes tippy with a loss of traction. With SMART Base Technology we were able to test 100's of configurations to find the perfect combination.
The result is the QUICKIE SALSA Q100 R. A legitimately compact entry-level powerchair that delivers the very-best traction, stability and even the ability to climb kerbs of up to 100 mm (4").
DESIGNED TO BE IN YOUR SPACE
Whether it's around the home, the local cafe or shopping mall, the SALSA Q100 R is in-touch with its environment inside and out. With an ultra-slim base and tiny turning circle, even the smallest place will feel big.
The small powerchair that's big on going out
Popping out? The SALSA Q100 R's indoor capabilities are just as at home outdoors. Painstakingly researched, its compact dimensions provide highly-deceptive traction and stability over a variety of terrains, hills and even when tackling kerbs.
Don't let kerbs get in the way
Need a little assistance climbing obstacles? The Q100 R's low-impact kerb climber will tackle kerbs of up-to 100 mm (4") at low-speed and even from a standing-start (so your seated position will be maintained whilst transitioning up the kerb).
**PLEASE NOTE: Once we have your order, we will make contact to discuss sizing and any changes you may wish to make.**
Sit back and relax
The SALSA Q100 R's seating has been designed to fit you. With plenty of settings and a 5-strap tension adjustable back to meet postural requirements, take comfort in knowing that if your needs change, so can your seat.
Specification
Width: 54cm
Length: 101cm
Seat Width: 43 - 50cm
Seat Height: 45cm
Seat Depth: 40 - 50cm
Seat Tilt: 0º - 6º
Backrest Height: 50cm
Back Recline: 0º, 4º, 8º & 12º
Turning Radius: 160cm
Max Range: 31km/ 19miles
Speed: 6kph
Max. Kerb Climb: 7-10cm (with Kerb climber)
Max User Weight: 125kg
Weight: 95kg (inc. batteries)
Share
Recently Viewed Products
Exclusive built-in app section that stores the history of product views (incl. quick view)