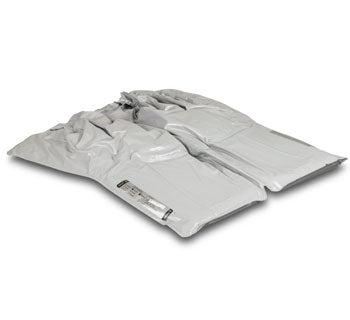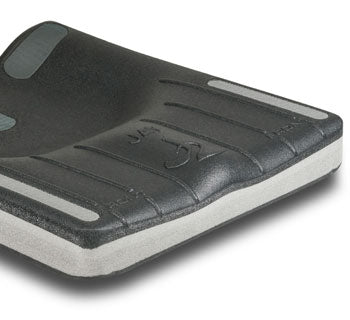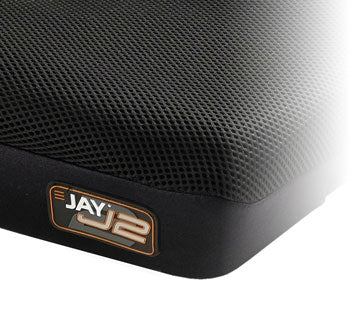 Jay J2 Cushion
Stability and positioning with skin integrity protection.
Product Features:
Firm base, anatomical well, femoral loading
Carveable base for build-ups, cut outs and customisation
Jay Fluid Tripad for ischial immersion and envelopment
Wide range of and postual support accessories
Two cover options - 3DX Microclimatic cover or incontinence cover.
Clinical Application:
Client with high risk of skin breakdown and shear
Designed for the client with symmetrical posture to aggressive postural needs that change over time
Clients unable to weight shift; limited postural stability and unable to reposition
Contoured, Easy to Modify Base
The J2 wheelchair cushion feature a contoured foam base constructed from closed cell foam. This makes it easy to modify in our factory or in the field. Additionally, an extensive selection of positioning components are available. The J2 wheelchair cushion provide exceptional lateral and forward stability for individuals with changing needs or unique postures.
Two Cover Options
The J2 wheelchair cushion is available with the choice of two cover options. The 3DX Microclimatic spacer fabric with stretchable neoprene sideband wicks away heat and moisture and is machine washable and quick to dry. The incontinence cover helps with incontinence management by protecting the foam base from moisture build-up.
Download the full Jay Cushion brochure here: Jay Cushion Brochure
**Once we have your order, we will make contact to discuss exact sizing and requirements**
Technical Specification
| | |
| --- | --- |
| Width: | 360mm - 610mm (36cm - 61cm) |
| Depth: | 410mm - 510mm (41cm - 51cm) |
| Height Front: | 76mm (7.6cm) |
| Height Rear: | 76mm (7.6cm) |
| User Weight: | 150 kg (23.6 stone) |
| Product Weight Max: | 5.4 kg |
| Product Weight Min: | 2,0 kg |
Share
Recently Viewed Products
Exclusive built-in app section that stores the history of product views (incl. quick view)