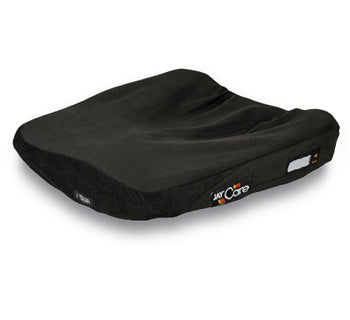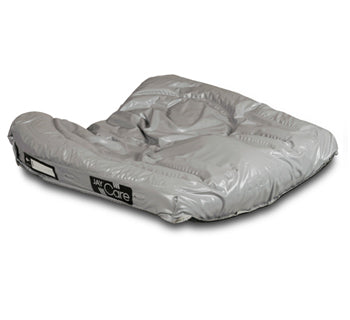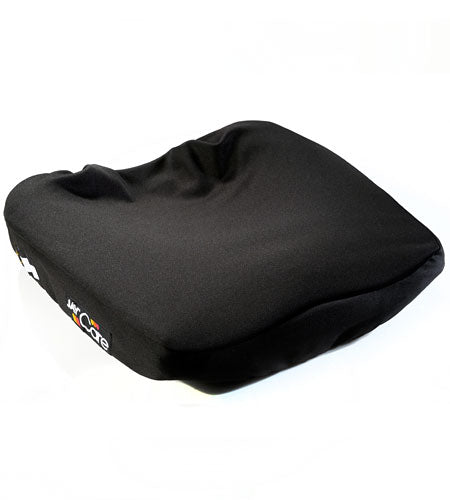 Jay Care Cushion
Designed specifically to address the needs of the elderly client.
Product Features:
Contoured shape for symmetrical positioning and both forward/rearward and lateral stability
"Fluid Tripad" incorporates three sections to ensure fluid remains under ischials with Jay Flow also protecting thighs and acting as incontinence resistant casing
Longer seat well to accommodate sacral sitter
Bevelled base for use with sling seat, impermeable and non-skid bottom
Washable stretch cover
One piece sealed system (except cover) so is easy to clean and re-apply to new clients
Clinical Application:
Sacral sitter with symmetrical posture requiring moderate postural support
Moderate risk of skin breakdown
Can perform an independent weight shift
Contoured Foam Base with Extended Well and JAY Flow Fluid Tripad
The Care's extended well accommodates the "sacral sitting" position common with fixed posterior pelvic tilt postures. Designed for use on sling upholstery, a reinforced, curved bottom reduces the "hammocking" effect of upholstery, keeping the sitting surface level. Its integrated JAY Flow fluid pad conforms to each individual's shape and ensures proper fluid placement beneath bony prominences to help protect the skin from breakdown.
Two Covers Included
Two covers are included with the Care cushion. The backup cover allows for continued use and protection of the base when the other cover is being washed.
Download the full Jay Cushion brochure here: Jay Cushion Brochure
**Once we have your order, we will make contact to discuss exact sizing and requirements**
Technical Specification
| | |
| --- | --- |
| Width: | 410mm / 460mm / 510mm (41cm / 46cm / 51cm) |
| Depth: | 450mm - 500mm (45cm / 50cm) |
| Height Front: | 96mm (9.6cm) |
| Height Rear: | 96mm (9.6cm) |
| User Weight: | 113 kg (17.8 stone) |
| Product Weight Max: | 4.1 kg |
| Product Weight Min: | 3,3 kg |
| Cushion Type: | Contoured foam base +Jay Flow Fluid |
| Cover Type: | Microclimatic and Incontinence (optional) |
Share
Recently Viewed Products
Exclusive built-in app section that stores the history of product views (incl. quick view)