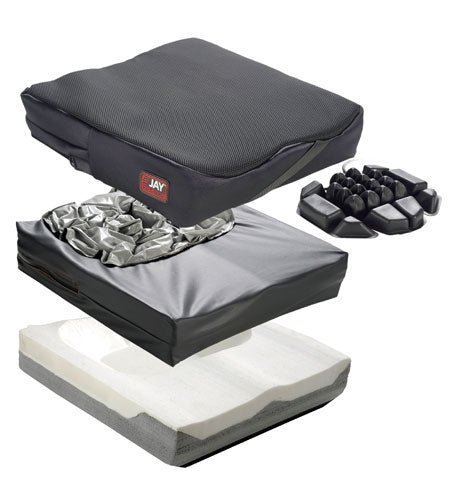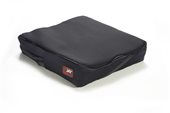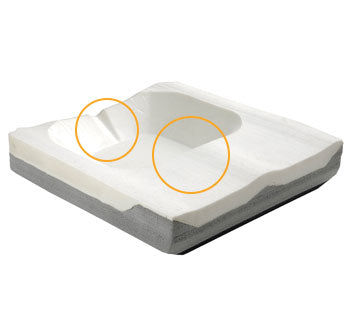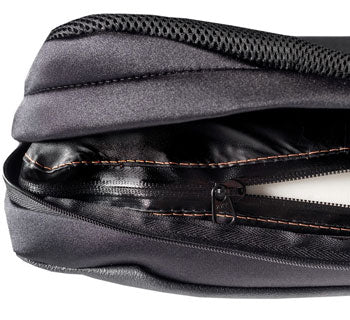 Jay Balance Cushion
The perfect balance between skin protection and stability.
Combining the high skin protection qualities of the JAY J2 wheelchair cushion with the stability and positioning capability of the J3, the JAY Balance wheelchair cushion adds exceptional comfort to ensure that there are no compromises.
Features include:
- Reduced seat height (via Seat rail relief cut)
- Pelvic obliquity pads
- Improved well design
- New fluid pad options
- Soft foam top layer
- Positioning options
- Innovative dual cover system
- Easy to order
Optimal well design
The size and shape of the JAY Balance's well or Pelvic Loading Area (PLA) is based on anthropometric measurements of average pelvic bone width to ensure maximum stability. The rear and steeper front well walls have been designed to prevent fluid migration and keep the fluid where it is needed. The new pelvic obliquity pads (optional) also add the possibility to accommodate a pelvic obliquity. Available with JAY Flow Fluid™ or ROHO Dry Flotation™ airs insert.
Innovative, dual cover system
The inner cover is made of two way stretch dartex fabric, is water resistant and easy to clean. The Aquaguard zipper and anti-wicking thread ensure that the base stays clean and dry. There are three cover options; microclimatic, stretch, and incontinence. Each cover allows positioning inserts to be added without increasing surface tension. All outer covers are machine washable at 60°C and quick to dry.
Download the full Jay Cushion brochure here: Jay Cushion Brochure
**Once we have your order, we will make contact to discuss exact sizing and requirements**
Technical Specification
| | |
| --- | --- |
| Width: | 340mm - 600mm (34cm - 60cm) |
| Depth: | 340mm - 600mm (34cm - 60cm) |
| Height Front: | 85mm (8.5cm) |
| Height Rear: | 85mm (8.5cm) |
| User Weight: | 150kg (34 - 50cm widths) / 225kg (56 - 60cm widths) (23.6 stone / 35.5 stone) |
Share
Recently Viewed Products
Exclusive built-in app section that stores the history of product views (incl. quick view)