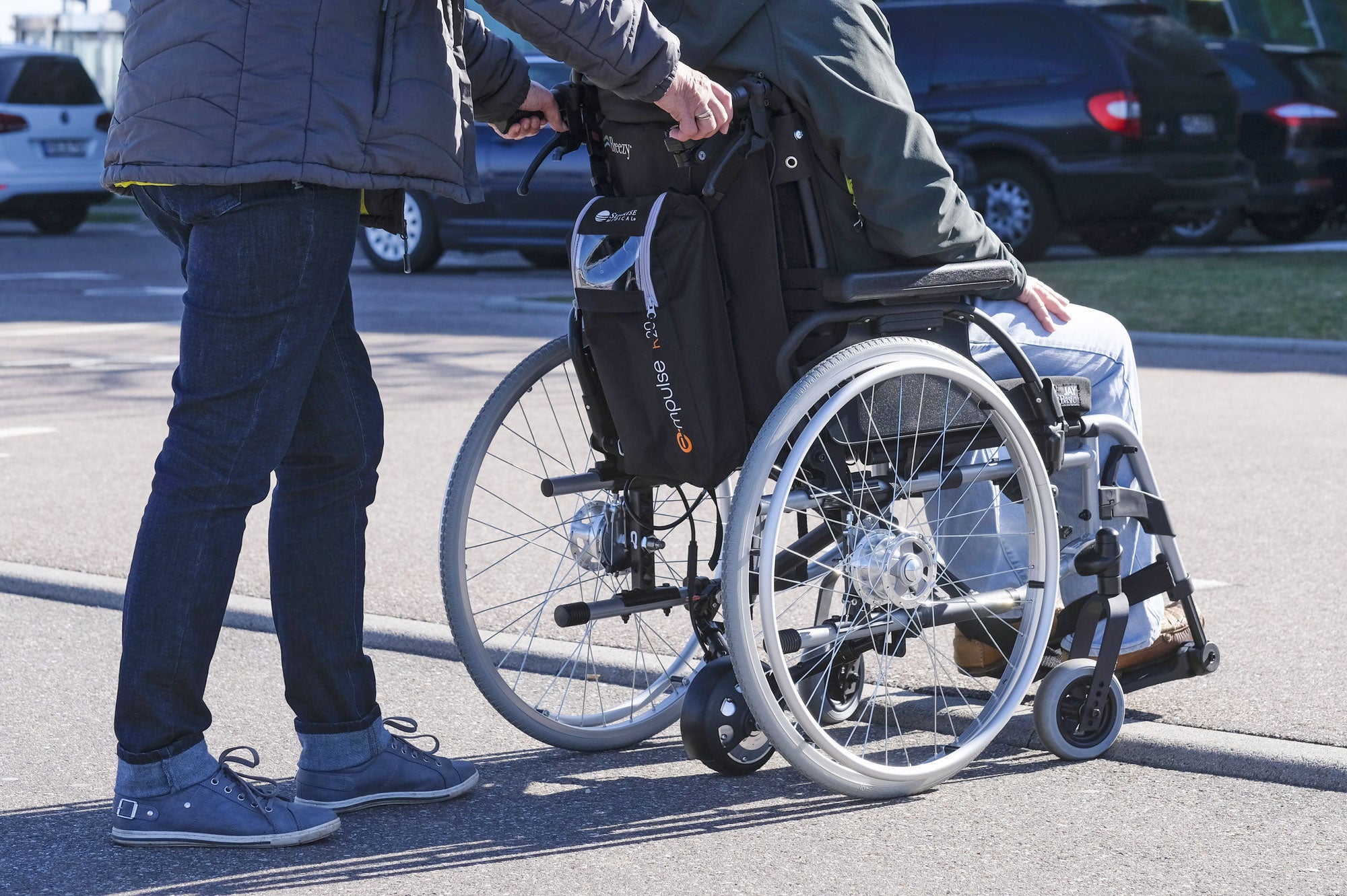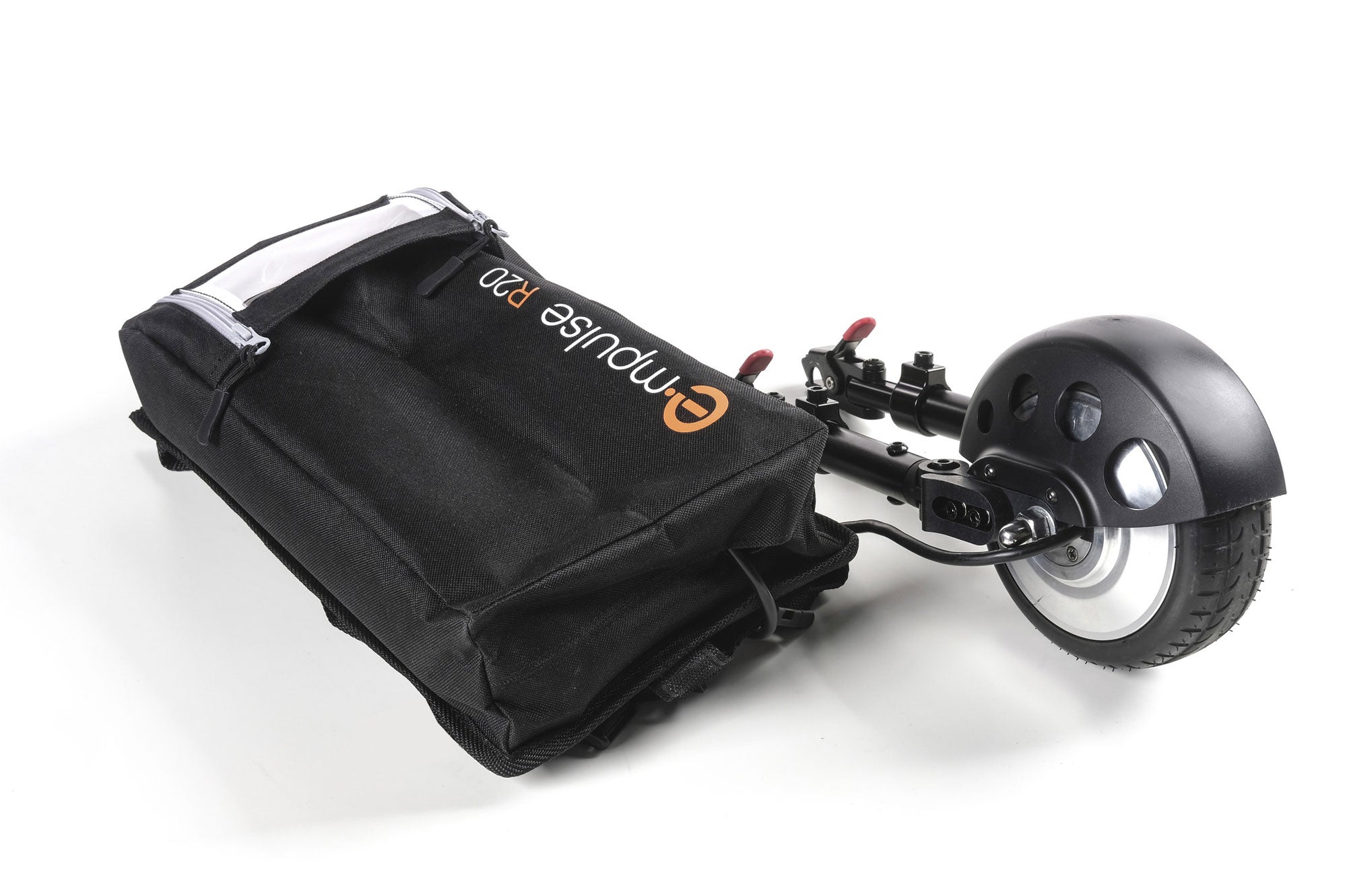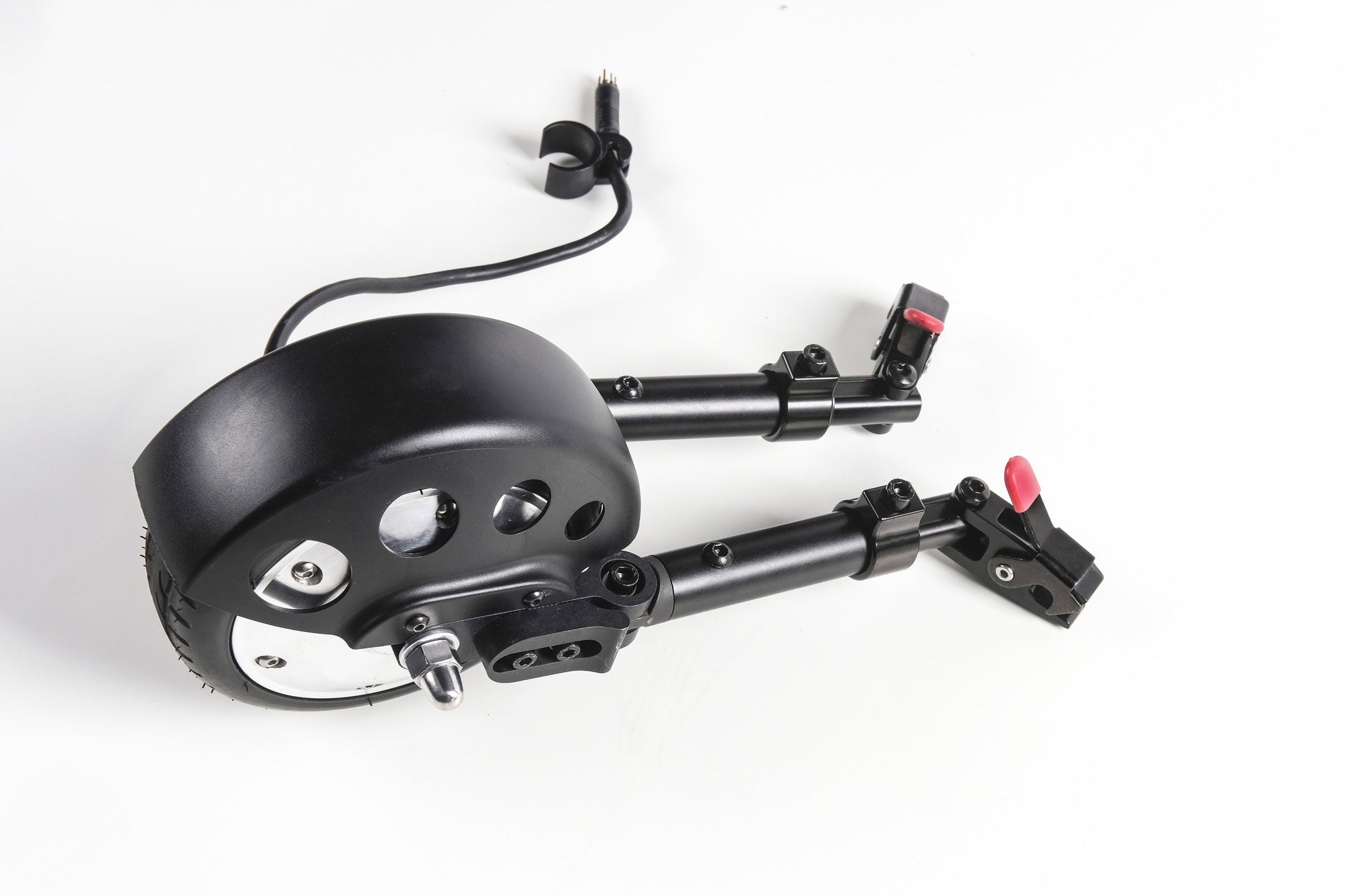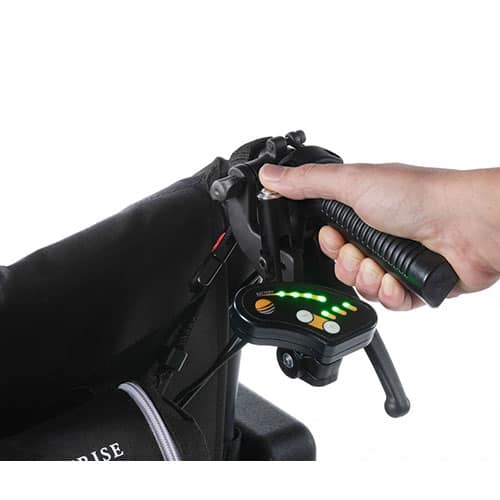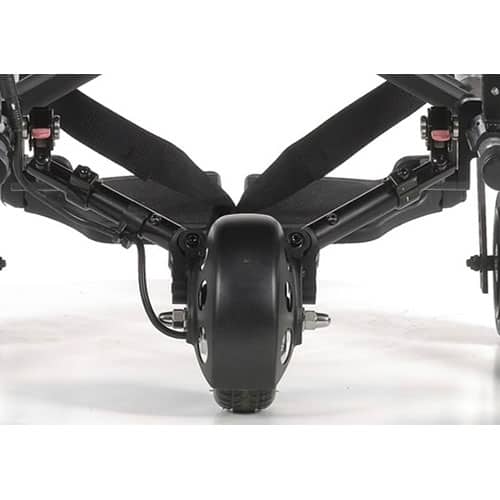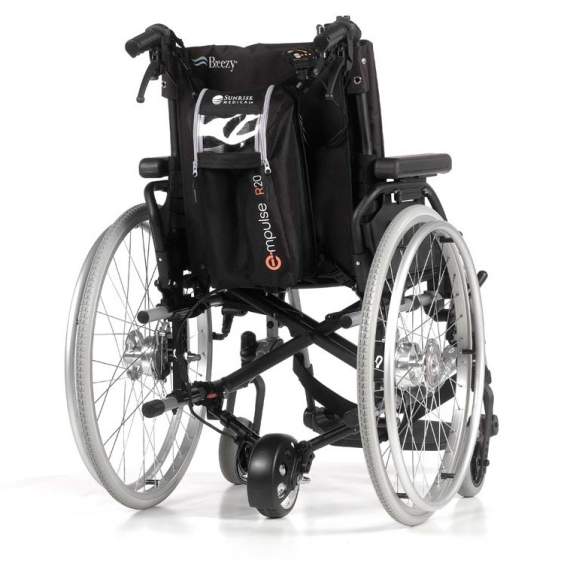 Empulse R20 Wheelchair Push Device
Revolutionary, lightest, foldable pushing aid for manual wheelchairs
The Sunrise empulse R20 is a foldable push device for manual wheelchairs making it even easier to move forward, whether that be uphill, downhill or longer distances. The R20 supports the attendant pushing the wheelchair in lots of everyday situations where you may have previously struggled. Not only is the R20 power pack the only foldable option on the market, attached to or separated from the wheelchair, it is also extremely lightweight. At only 3kg and complete with a handy back pack it makes this an incredibly practical and easy choice when wanting something for transportation. Powered by a 1.5kg powerful 5.8Ah lithium ion battery the R20 offers the user a range of up to 15km and a recharging time of 4.5-5hrs.
Integrated freewheel allowing a self-drive option for ease of use
Another advantage of the empulse R20 is that it still allows the person sitting in the wheelchair to have a self-drive option on self-propelling wheelchairs. Thanks to the integrated freewheel you can drive the wheelchair without having to remove the pushing aid; you simply lift the drive wheel off the ground with the hook provided, allowing you maximum independence when required. Ideal for users up to a maximum weight of 170kg (26.7st).
Compatible with a huge range of manual wheelchairs
This wheelchair powerpack offers high compatibility when combined with most manual wheelchairs. It is easy to fit to any wheelchair, provided it has a box frame and a tube diameter of 22-28mm then the R20 can be fitted and used. Once the docking pins have been fitted to the wheelchair you can then click fix the R20 on to your wheelchair quickly and simply, without the need for tools. It also offers low impact to the weight of the wheelchair as only the small docking pins remain on the wheelchair. It is ideal for tilt in space & reclining wheelchairs as it does not impact or get in the way of the tilt or recline functions.
Easy to use controls, powerful motor and maintenance free
The empulse R20 offers ease of use with its one button on/off controls and light up display to show the battery capacity remaining and the speed range setting. The control unit is also adjustable so that you can find a position that is comfortable, visible and easily accessible. The single motorised wheel has a solid, robust, long lasting tyre and runs from a powerful 250w brushless motor making it maintenance free.
Technical Specification
Max Range: 15km
Speed: 5km/h (adjustable in three steps - 2/3.7/5 km/h)
Batteries: 5.8 Ah / 36V  Lithium Ion
Max Safe Slope: 10degrees / 18%
Max Kerb Climb: 50mm
Min. Wheelchair Weight: 3kg
Max User Weight: 190kg
Wheelchair Seat Width: 320-600mm
Please click HERE to download the full brochure.
Share
Recently Viewed Products
Exclusive built-in app section that stores the history of product views (incl. quick view)