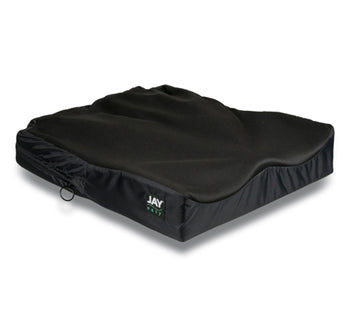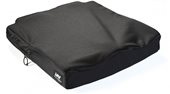 Jay Easy Visco Cushion
High level comfort and positioning with mild pressure redistribution.
Product Features:
Lightweight precontoured foam with medial/ lateral thigh support
Visco elastic foam in the seat well to allow immersion of the ischial tuberosities and load distribution to the femurs
Sacral and seat rail notches
Curved or flat base for use with solid or sling seat
Incontinence cover as standard with option for microclimatic cover
Solid seat (as option)
Clinical Application:
Client with mild symmetric or asymmetric posture and moderate postural support requirements
Provides moderate lateral stability as well as moderate forward/rearward stability
Clients with low to moderate risk of skin breakdown and low shear risk
Independent weight shifts
Moisture-Resistant Cover with No-Slip Bottom
A moisture-resistant cover assists with incontinence management by protecting the JAY Easy's foam base from moisture build-up. Its no-slip surface keeps the cushion in place during daily use and transfers.
Download the full Jay Cushion brochure here: Jay Cushion Brochure
**Once we have your order, we will make contact to discuss exact sizing and requirements**
Technical Specification
| | |
| --- | --- |
| Width: | 250mm - 600mm (25cm - 60cm) |
| Depth: | 250mm - 600mm (25cm - 60cm) |
| Height Front: | 63mm (6.3cm) |
| Height Rear: | 63mm (6.3cm) |
| User Weight: | 150 kg (23.6 stone) |
| Product Weight Max: | 2.70 kg |
| Product Weight Min: | 0.50 kg |
| Cushion Type: | Viscoelastic foam |
| Cover Type: | Microclimatic and Incontinence (optional) |
Share
Recently Viewed Products
Exclusive built-in app section that stores the history of product views (incl. quick view)