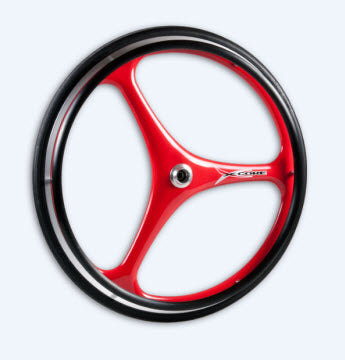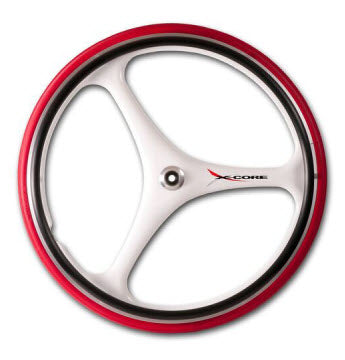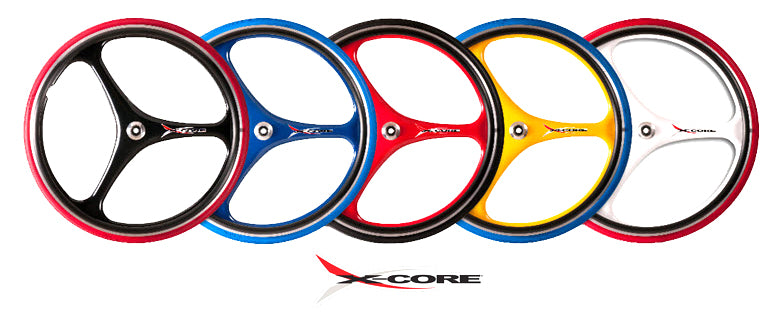 3 Spoke 24" X-Core Carbon Wheelchair Wheels - PAIR - NO TYRES
X-Core 24ʺ 3-Spoke Carbon Fibre Wheel for Wheelchairs
The highly engineered X-Core Carbon Fibre Wheels manufactured by Custom Engineered Wheels Inc. (CEW) are unrivalled in quality and performance. The cutting edge design of the wheels contributes to its ubiquitous appeal.
X-Core: The Carbon Fibre Wheel
Our engineers created the 3rd Generation 3-Spoke X-CoreTM carbon fibre wheel.
By adding strength enhancing internal ribs inside the spokes, and 'factory set' secure hub mounting with advance epoxy, thrusts the reliability of the X-CORE 3-Spoke carbon fibre wheel to new heights.
The high-grade liquid automobile paint, CFXP3 used for the wheels provides incredible finish and long-lasting colour protection. The one-piece hub allows maintenance, removal, and handling of the wheels a breeze, as opposed to wire spoke wheels.
Carbon Fibre Wheel Production Process
We use our patented process of lost core molding to manufacture carbon fibre wheels. The carbon fibre composite material used and the innovative process, together render the wheels strong, durable, lightweight, and unrivalled in performance.
**PLEASE NOTE – The wheels come with a silver handrim but NO TYRES.  Please allow 7-10 days for delivery**
Share
Recently Viewed Products
Exclusive built-in app section that stores the history of product views (incl. quick view)